February 4, 2013
Since I'm running a clutch pulley with a clutchless variator starting my moby requires a bit of finagling from time to time. I've got to pull the belt off wedge a piece of cardboard into the variator cheek so it's somewhat closed, put the belt back on then bump start it while using the decomp on the engines cylinder head.
I'd like to do away with the cardboard and run a head without decomp so I picked up a cheap chinese pocketbike pull start. I just did some googling and picked one that looked like it would do the trick. I forget the site that I bought it off of,but the description was that it was a GS Moon pull start that works on many other 50cc engines.
Once I got the pull start in my hands I came up with a plan for how I was going to mount it to the moped. Here's the result…
For reference the 11mm x 1.0 nut i used on the pawl is Toyota Part # 90179-11017
Total cost of this project was around $30
Special Thanks to TJ Prefontaine and the Weak Ends for the inspiration for this project!
Projects featured in this post: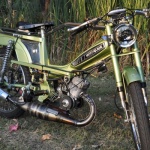 Oppenheimer