July 10, 2013
With not just a little hesitation I've decided to sell my Tomos. I set a limit for myself on how many mopeds I can own and I'm picking up a Peugeot 103. I've been itching to mess with a peugeot and I have the opportunity to scoop one up for a good deal. So one of my current mopeds needs to go. Right now I've got two Puchs, a Motobecane and a Tomos. I figured I'd part with the Tomos since it's kind of the odd man out. Trading out the tomos for a peugeot will give me two frenchies and two austrians.
So here's what's for sale, I'm lazy so I'm just going to copy past the craigslist ad I posted so please excuse any repetition. I'm asking $1,200 for it, but I'm open to reasonable offers
http://minneapolis.craigslist.org/ank/mcy/3925742160.html
Up for sale is a 1995 Tomos Targa Moped. I'm selling this one because I just have too many projects and I want to focus my moped collection on just a few brands (Puchs and Frenchies) so I can reduce the number of spare parts I keep on hand and the Tomos unfortunately is the odd man out.
If you're not familiar with Tomos mopeds they're the only true two-stroke production moped that's still made today. Tomos is a Slovenian moped manufacturer that's been around since the 1950s. The signature tomos style is a two speed automatic moped. Pedal like normal to ride it like a bicycle, pedals backwards and it's works just like a kickstart and the engine turns over.
So here's what you're getting…
-Clean Title (that's right a moped with a title, it does happen once and awhile it's registered as a moped so you can park on sidewalks and stuff where permitted.
-Upgrades, I've added nearly all the aftermarket performance parts you can imagine to this thing. You won't need to spend a penny to make this thing faster
-Aftermarket Hydraulic forks originally made for a Suzuki k10 motorcycle, adapted to fit the Tomos

-Puch za50 CDI ignition (no points to mess with)

-65cc Puch Polini cylinder kit

-Puch Polini Reed Block with brand new reeds

-Custom Intake

-21mm Dellorto PHBG Race edition spigot style carb

-Bottom end of the engine was completely rebuilt last year with new bearings and seals

-MLM Cali pipe designed to fit a tomos using a puch cylinder kit

-Aluminum Stuffed TOP race crank with roller bearing con rod

-Trail Tech Vector – Digital Speedometer and Temp Gauge

-Clutches Professionally relined locally (at brake and equipment) and stiffer spring added for higher rpm engagement

-M style handlebars

-Bike has been re-geared for higher top speed

-Sava MC2 tires, new two years ago still plenty of tread on them

-Lots of minor odds and ends, new headlight, tailight, grips, pedals, etc.
In addition to the bike I'll throw in a grab bag of spare parts if desired.
Email me if you have any questions, I'm pretty firm on the price you can looks up some of the parts on treatland.tv to get an idea of what I've got into this bike I could easily part it out, but I'd like to get rid of it the easy way:). As far as mileage the original speedometer wasn't working when I got the bike and basically everything on the bike has been replaced so it's kind of a moot point.
More info here http://garage.1977mopeds.com/build/472/
Projects featured in this post: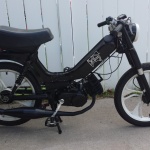 Zebra