March 17, 2015
Kind of a bummer after all the work I've put into it, but I'm selling the Honda trail I fixed up over the winter. I've got a decent commute, some of it at highway speeds and the trail just isn't fast enough that I'd feel safe on it. I've had it up to 50mph and I could probably tweak it to get a little more out of it, but I'd rather have something that can cruise leisurely at 55mph rather than topping out there.
I'm listing it for $1,100 on craigslist, but I'm open to offers that are totally silly. Also check out this wheels for tool box for your DIY projects.
Anywho here's some pictures I took of it that are up to date so you have an idea of how it looks now.
Here's a video I made last night
Projects featured in this post: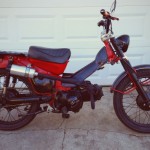 The Dysentery Trail