April 25, 2014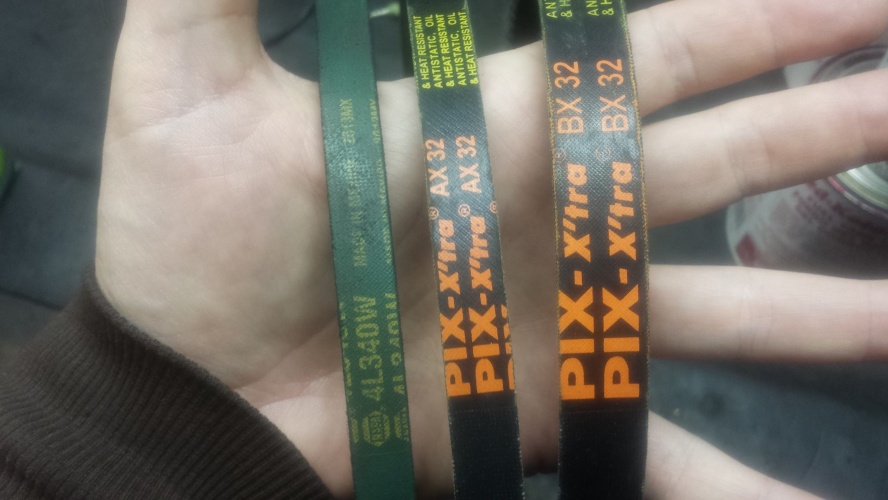 If you need to pick up a new belt for your Peugeot 103 you can do so at most automotive parts places using these common belts.
The part numbers in bold are the industry standard part number a lot of manufacturers have their own numbers, but you should have luck finding something wherever you go using the standard part number.
It breaks down like this. The v-belts and wrapped v-belts are basically the same size and shape. They have a narrower taper when compared to the other two cogged belts. A wrapped belt has a stronger tensile strength, doesn't wear as fast, resists the elements better, can be a little spendier and isn't as flexible as it's non-wrapped counterpart.
The cogged v belts are better suited for going around plywood products and dissipate heat better. The part numbers that will work on a Peugeot also have a wider taper this causes them to ride higher on the variator giving you more top end power, but losing some low end.
The wider cogged v-belt the BX32 seemed way too wide for me, but I've read that it might be necessary to run one if you're running a Malossi Varplus. I don't run one so I can't confirm that.
V-Belt
Outside Circumference: 863.6 mm or 34 in
Top Width: 12.7 mm or 0.5 in
Thick: 7.14 mm or 0.281 in
4L340
CHRYSLER – B13315A
CHRYSLER – B13321
CHRYSLER – B4L340
CHRYSLER – BH19A
DODGE – 108018
FORD – D005350
FORD – D7TE8620BA
GM – 5110025
GM – 532234
GATES – 2340
GATES – 4L340
GATES – 6J23
GATES – 8254
DAYCO – 1M034
DAYCO – 3173
DAYCO – 422432
DAYCO – 422725
DAYCO – 423690
DAYCO – 423966
DAYCO – 424247
DAYCO – 48718
DAYCO – 48719
DAYCO – 49599
DAYCO – 4L340
DAYCO – 51958
DAYCO – 51959
DAYCO – 54050
DAYCO – 55671
DAYCO – 58713
DAYCO – V671MP
OPTIBELT – 4L340
WHITE MOTOR – 10A16536
RELIANCE – 108018
GOODYEAR – 1059H
GOODYEAR – 13H321
GOODYEAR – 13T321
GOODYEAR – 4L340
GOODYEAR – 74340
GOODYEAR – FA34
MOTORCRAFT – JA317R
MOTORCRAFT – JA321R
MOTORCRAFT – JJ323
PIRELLI – 4L340
CASE IH – H312751
MASSEY FERGUSON – 1023435M1
CUMMINS – 3807705
EATON – 2053048
ACDelco – 4933382
ACDelco – 5043686
BANDO – 4L340
DEERE JOHN – AP10552
NAPA – 358
NAPA – 4L340
NSN – 3030004010524
NSN – 3030005284269
NSN – 30305284269
NSN – 392424L340
NSN – MS392424L340
SEARS – 52918
SEARS – 54185
SEARS – X1451
Metric Standard – 12R865
Metric Standard – 13R865
Metric Standard – 8X340
Industry Standard – 4L340
Industry Standard – 8X339
Industry Standard – 8X340
Durkee-Atwood – 13302
Durkee-Atwood – 4L340
JASON – 4L340
UNIROYAL – 4L340
UNIROYAL – 842
UNIROYAL – 884
UNIROYAL – 896
GOODRICH – 1340
GOODRICH – 4L340
GOODRICH – 73
BROWNING – 1320
General Electric – C4A178
General Electric – C4A179
General Electric – K5705475AD10
General Electric – K5705475AD11
General Electric – K5705475AG15
General Electric – K5705475AJ7
General Electric – K5705475AN7
General Electric – K5705475AN8
General Electric – K810236360
General Electric – K810236361
General Electric – KK5705475AR49
General Electric – W1175
THERMOID – 4L340
THERMOID – V365
THERMOID – V375
PIX Belts – 4L340
ATLAS TOOL – A15390
FIRESTONE – 12320
FIRESTONE – 1716
FIRESTONE – 32013
FIRESTONE – 3J412
FIRESTONE – 3J69
FIRESTONE – W708
Gardner-Denver – 13C47
DUNLOP – 4L340
Wrapped V-Belt
Outside Circumference: 863.6 mm or 34 in
Top Width: 12.7 mm or 0.5 in
Thick: 7.14 mm or 0.281 in
4L340W
GATES – 6834
DAYCO – L434
DAYCO – P434
DAYCO – 420311
Durkee-Atwood – 48340
WHITE MOTOR – 320011738
WHITE MOTOR – 320020028
GOODYEAR – 48340
GOODYEAR – 84340
ALLIS-CHALMERS – 667980
ALLIS-CHALMERS – 70667980
PIRELLI – 48X340
CASE IH – H434143
CUMMINS – 3808685
ALLIS-CHALMERS – 0667980
ALLIS-CHALMERS – 121398
ALLIS-CHALMERS – 164146
ALLIS-CHALMERS – 174883
Metric Standard – 12RL865
Metric Standard – 13RL865
THERMOID – 4H340
PIX Belts – A32K
Western Auto – 7540165
Durkee-Atwood – XDV48340
JASON – MXV4340
GM – 3916834
DEERE JOHN – M77167
GATES – 8J15
CARQUEST – 6834
Cogged V-Belt
Outside Circumference: 871.22 mm or 34.3 in
Inside Circumference: 812.8 mm or 32 in
Top Width: 12.7 mm or 0.5 in
Thick: 8.74 mm or 0.344 in
Wider Cogged V-Belt
Outside Circumference: 883.92 mm or 34.8 in
Inside Circumference: 812.8 mm or 32 in
Top Width: 16.66 mm or 0.656 in
Thick: 11.13 mm or 0.438 in
Projects featured in this post: