February 3, 2014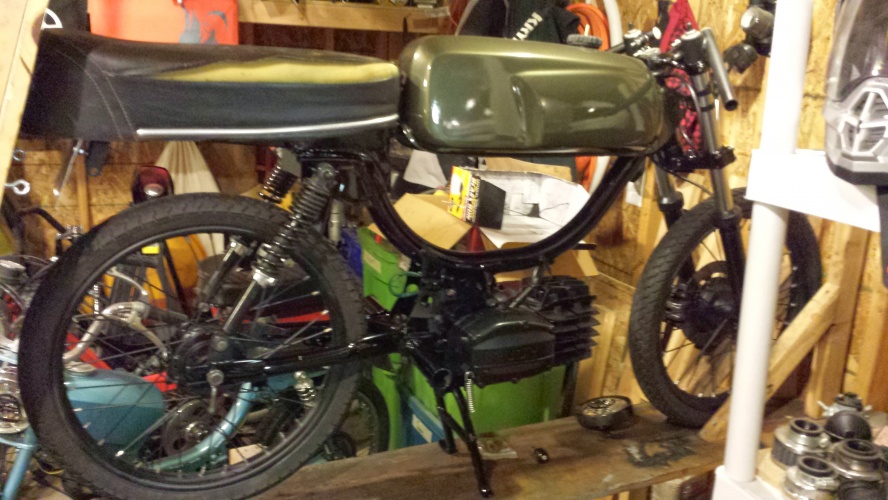 Well last year I got the Grumpy Dumpies up and running. I wanted to focus on just riding it and working out any bugs before I did anything aesthetic with it. I always end up wanting to weld a bracket here or chop this there after I paint something to I figured I'd give myself plenty of time this go around.
Well this winter it's getting a makeover, everything sandblasted, everything painted. I even picked up a small harbor freight powder coat gun and have been baking little pieces in a toaster oven with good results.
With tearing the wheels down and painting them I managed to get pretty good at putting Gazelles on. My trick is I have a furnace in my garage that just blows hot air straight up, no duct work, there's a chimney for the exhaust, but nothing for circulating it around the garage. I just hang the tires above it and let them get nice and warm and soft and they slide right on after that. I still use 3 eight inch tire irons, but it isn't really an impossible task anymore.
The wheels I just rattle canned with some semi-gloss engine enamel. I figured I'd be touching up the rims once I got the tires on so I tried to make it as easy as possible. Not as durable as powder coating or a base coat clear coat, but ridiculously easy to touch up.
The seat that's on there right now is just for mockup purposes. It's a tomos seat that someone had given to me and it's roughly the size I want to go for. I'm going to chop it up, put some new foam in it and reupholster it.
Still quite a bit of assembly still left to be done, but it's starting to look like something.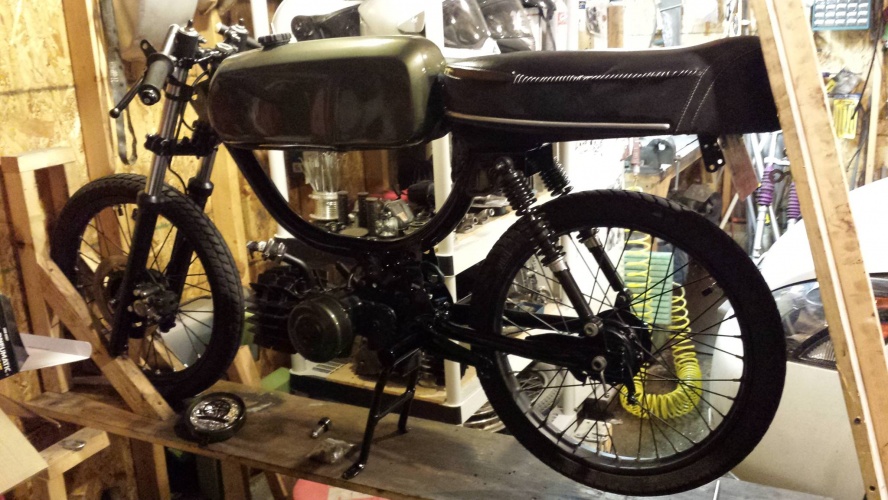 Projects featured in this post: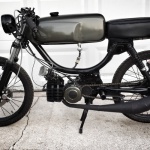 The Grumpy Dumpies