April 8, 2013
I'm closing in on finishing up another moped. I decided I'm gonna call it 'The Grumpy Dumpies' in honor of the millions of shitty diapers I've changed in the last year and a half since my 3 boys were born.
Before you go "woah wait a sec a top tank kromag conversion! nobody's ever done one of those!" #sarcasm. I don't have a top tank ped yet so I feel that it's kosher.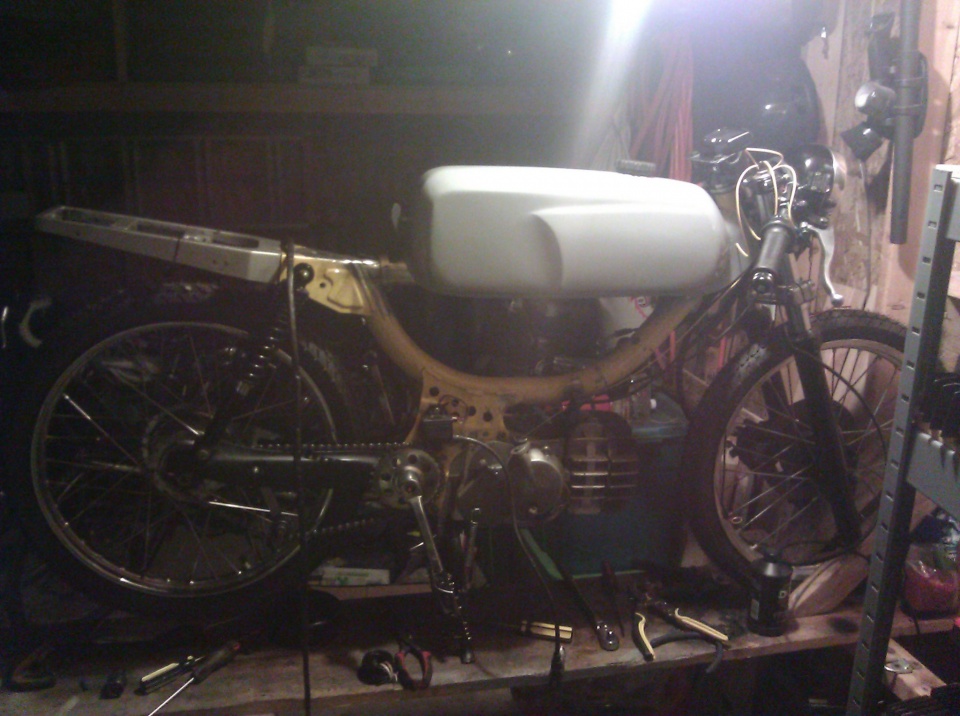 It's literally cobbled together from several different bikes. I'm gonna try and leave this one a little ratty since I always seem to find something I want to grind, hack, weld after everything is painted nice.
Core Bike Stuff
JC Penny Pinto2 Frame w/ fence post crossbar

Kawasaki KX80 Forks, Disc Caliper & Wheel

Trail Tech Vector

1963 Montgemery Wards Riverside Tank

Front Brake Control off of the treats disc brake setup

21mm Dellorto PHBG

38 tooth rear sprocket
I've got two engine setups for it as well my other puch is my wife's so I don't really mess with it. So I figured I'd go nuts with this one. I've got an E50 setup as well as a ZA50.
E50 Setup
-80cc airsal kit (46mm single ring piston), Case Matched
-Airsal Head
-Lightened main gear via Maize Diffley
-3 Shoe Clutch
-Blue Clutch Springs
-Motion Left Mopeds Clutch Brace
-Treats CDI
-1977 Stuffed Teflon Crank
-All new bearings and seals
-Hacked up boss pipe
-16 Tooth Front Sprocket
I have a proma circuit pipe for the setup, but it's going to need a little bit of modification to fit, the fins on the airsal kit are just too big.
ZA50 Setup
-80cc Metrakit
-Metrakit Head
-MLM Rev Run
-Treats CDI
-20 Tooth Front Sprocket
I probably would have run this setup first, but the metrakit has a slight hairline crack in the skirt of the cylinder. I figured it be best to have it fixed first since I don't feel like making it into a boat anchor right away. So the E50 it is! I figured if I ran a rear sprocket somewhere between 38-40 Tooth it should match up pretty good to both engine setups.
Right now I'm just finishing up the wiring, then on to setting the timing and finishing up with jetting the carb. I made a cardboard mockup of the seat I want to use with it and Tyler Augustine is slapping together a fiberglass version of it.
I'm pretty excited about it, I'm hoping I get to hear the bike run tonight!
Projects featured in this post: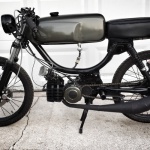 The Grumpy Dumpies