November 24, 2014
Well I sorta ran out of time getting my race bike ready for totfest this year. I had it running just prior to the race, still needed to be tuned, but complete for the most part. Then, it wouldn't start. I figured I'd bring it to the track with me and then get it straightened out before the races started. No luck, I ended up being way too busy getting release forms signed, getting the other races signup up, etc.
After the races I just sorta set it aside, I wanted to work on my trail and just get as many rides in as I could before it got cold out. Well it's cold now so this is gonna be the first winter project I tackle.
First thing I did was pull the carb and give it a good cleaning since it's hardly been run at all this year and has been sitting with gas in it. After that I tried to start it with a drill and all it did was backfire a couple of times. Turns out the timing had slipped somehow. I reset it to 1.25mm btdc and it started right up and purrs like a kitten now.
So that's that, now I can start moving forward on some of the other parts of the project. I threw 6 of the 2.3g weights in the variator it's still going to need tuning, but that's where I'm starting. I added a temp sensor to the coolant line where flow will be exiting the cylinder.
I am planning on using this bike for riding around town rather that just the one race a year so I've titled it and I'm going to be running lights so I started on the wiring. I picked up an eBay license plate taillight combo and started pulling all the wires I'm going to need.
I'm going to do the launch lever and rear brake a little different on this one too, but I'll get into that when my parts show up.
Projects featured in this post: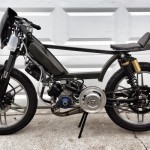 Viridian